Low Level P trap horizontal outlet P2
with flush pipe kit T31CHR
Product Options
Illustrated
C1 510mm close coupled/low level ceramic lever cistern
T31 CHR Low level flush pipe kit
P2 Low/high level pan
Please note this does not include the toilet seat. These can be found seperately.
Guarantee*
25 years domestic installations
1 year commercial installations
Standards Information
BS EN 997:2012

Chrome plated to BS EN248:2002
Sanitary tapware. General specification for electro deposited coatings of Ni-Cr

Additional Information
Low Level wc can be used where the soil pipe is located in the floor. The pan can be located over the soil pipe by cutting the horizontal flush pipe to length.

The cistern height can be varied by cutting the vertical flush pipe to length - maximum height is 1,075mm to the top of the cistern, minimum height is 900mm.

Water Inlet valve hole is located on the base of cistern tank on the right hand side

Bottom inlet valve (SP5A). Back inlet valve available as optional item (SP511).

SP511 : Back entry kit for C1/C3/C24, including back entry inlet valve with flexible hose and plug

Dual flush cistern fittings with ceramic lever on the right.

Press lever down for 6 litre flush and up for 3 litre flush.

P trap standard height pan - height from floor to pan rim is 40cm.

Regal Height pan ( floor to pan rim height 48cm ) available : P16

Cistern can be used with optional decorative Ornate Brackets T32 CHR

Low level wc must be used with standard Burlington toilet seats

Supplied with floor fixings.

Recommended to be used with cistern tank isolation valve W25

Ceramic soil connection pipes. The S trap connector bending down to the floor : C26

Spare parts

(below shows available spare parts for this product)
| | |
| --- | --- |
| SP11 | 51cm Cistern Lid For C1 & C2 |
| SP511 | back entry kit for C1, C3, C24, including back entry inlet valve with flexible hose and plug |
| SP1021 | bottom sealing washer of flush valve for product C1, C3, C3, C4 |
| SP965 | brass decorative cover of cistern connection for product T31 CHR |
| SP8 | ceramic Cistern lever for Close Coupled, Low Level Cistern |
| SP84 | cistern flush valve with control cable for cistern fitting SP5 (excluding lever and inlet valve) |
| SP973 | cone shaped washer, plastic washer and plastic fixing nut of cistern fittings C1, C2, C3, C4, C30, C1D |
| SP390 | extra parts in gold finish for SP5 cistern fittings |
| SP890 | flush pipe of product T31 CHR |
| SP160 | l shape bracket(pair) of T31CHR |
| SP5A | lever Flush Bottom Entry cistern fitting with ceramic lever |
| SP17 | screw fixing pack for pan and bidet |
| SP1067 | set of wall fixings for accessories – chrome |
| SP802 | the bigger stopper for SP5A |
| SP1365 | the bottom section of the H, L flush pipe |
WC FLUSH
Design a bathroom to suit your specific needs
---
All WCs are fitted with box rims, which even though they are harder to manufacture, provide a more accurate flush spread. Also fitted with water saving technology through its dual flush system.
WC OPTIONS
Select a range of alternative cistern and seat options and colours to tailor your WC to your own tastes
---
Close-coupled and low level WCs are available with either a ceramic lever flush, or a more contemporary front flush button. All WCs with a cistern are also available in standard 51cm or slimline 44cm cisterns to add greater flexibility to the placement of your WC. Cisterns come in a range of colours and styles too, simple white ceramic or for high level, aluminium in white, black or polished effect.
Burlington wc's are available in numerous styles.
The floor standing pans come in two heights (standard and taller Regal pans). The pans also come in back outlet (P trap), or floor outlet (S trap) versions.
The cisterns also come in two sizes - standard 51cm wide, or slim line 44cm wide.
The cisterns come with either ceramic lever or push button flush. The water inlet valves come in either bottom fill or back fill (water supply pipe enter from below or behind the cistern).
The high level cistern come with either rod dual flush or chain single flush fittings. High level cisterns come in only one size, but has four finish options: white ceramic, or hand polished cast aluminium in white, black or aluminium finish.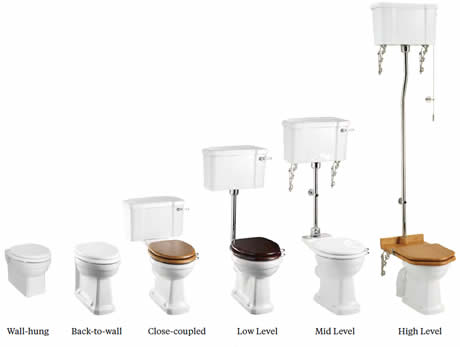 | | | |
| --- | --- | --- |
| | | |
| All Burlington WC fittings are factory set at 3L and 6L flush. They can be adjusted on site to flush at 2½L and 4½L. | All Burlington cistern fittings are WRAS (Water Regulations Advisory Scheme) approved | A unique ultra-smooth coating used on all Burlington WCs making them exceptionally easy to keep clean |
Downloads
* Please note that some of the drawings might not be drawn to scale.
Please refer to actual dimensions marked on the drawings.
If you are an architect, designer, distributor or retailer and require hi-resolution images or drawings of our products then please click here >