Burlington angled bath shower mixer deck mounted with S adjuster
Product Options
Illustrated
T9 Angled bath shower mixer
T18 Deck mounting unions
T1 Claremont tap handles
CL19 - Combined product code
Guarantee*
10 years domestic installations
1 year commercial installations
Standards Information
BS 5412:1996

BS EN 200:2008

Additional Information
Supplied with flow straighter - this is for use with low water pressure

Supplied with neoperl aerator - this is for use with high water pressure

Flow Rates
| | | | | | | | |
| --- | --- | --- | --- | --- | --- | --- | --- |
| System Pressure | 0.2 bar | 0.5 bar | 1 bar | 2 bar | 3 bar | 4 bar | 5 bar |
| Spout (straigthener) | 22 | 22.6 | 25.2 | 27.2 | 29 | n/a | n/a |
| Spout (aerator) | 5.6 | 10.7 | 11.6 | 14.3 | 15.6 | n/a | n/a |
| Handset | 3.56 | 4.19 | 7.06 | 11.36 | 15.55 | n/a | n/a |
Spare parts

(below shows available spare parts for this product)
| | |
| --- | --- |
| SP162 | aerator & flow straightener for product T8, T8-QT, T9, T9-QT, T10, T10-QT, T24, T24-QT, T25, T25-QT, V32, ARCV32 NKL, ARC44, T2WS, T2DS, T2WB, T2DB |
| SP523 | bell shape part for T5, T6, T7, T8, T9, T10, T11, T12, T13, T14, T15, T16, T26, T24, T25 and relative Quarter turn taps |
| SP1209 | ceramic handle for Burlington telephone handset |
| V29 | ceramic telephone handset |
| SP557 | cradle, handset holder, S adjuster for T8, T8-QT, T9, T9-QT |
| SP931 | decorative cap of Burlington tap handles - cold |
| SP930 | decorative cap of Burlington tap handles - hot |
| SP191 | diverter for T8, T8-QT, T9, T9-QT |
| SP378 | diverter handle for T8, T8-QT, T9, T9-QT |
| SP93 | fixing screw and washer for valve handle (T1, T2, T3, V1, V2, V3) |
| SP92 | G3, 4 fixing nut and washer for products T7, T18 |
| SP1006 | o rings of spout for product T24, T24-QT, T25, T25-QT, T8, T8-QT, T9, T9-QT |
| SP200 | part B for T8, T9 diverter |
| SP317 | s Adjustor for T8, T8-QT, T9, T9-QT |
| SP1072 | set of parts used to connect the T8 BSM diverter and cross handle |
| SP45 | T1, T2, T3 'Hot' and 'Cold' ceramic indice |
| SP40 | T9 'Shower, Bath' ceramic indice |
| SP27 | T9, T24, T25 3, 4 full turn cartridge |
Innovative Designs
These taps come with the traditional screw down valves as standard. A quarter turn option is available when ordering. Simply add QT to the product code when ordering to specify the quarter turn option.
Traditional
screw-down
Quarter turn
' S ' ADJUSTER
Every Bath Shower Mixer comes with our 'S' Adjuster. This means you can position the telephone handset over the bath - so when you're done the last few drips fall in the bath. You can install your Bath Shower Mixer with or without the 'S' Adjuster.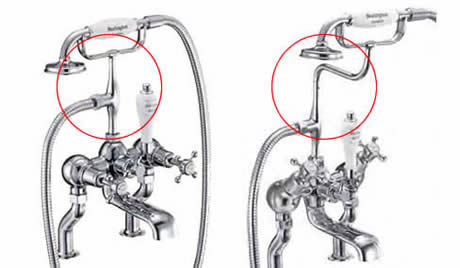 | | |
| --- | --- |
| without S-adjuster | with S-adjuster |
Downloads
* Please note that some of the drawings might not be drawn to scale.
Please refer to actual dimensions marked on the drawings.
If you are an architect, designer, distributor or retailer and require hi-resolution images or drawings of our products then please click here >